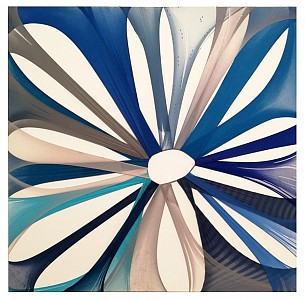 August 2019 Newsletter
August 19, 2019 - Everard Read Cape Town
Both Turiya Magadlela & nomThunzi Mashalaba were invited to exhibit in Speculative Inquiry #1, the first exhibition focusing solely on living women abstract artists in Africa. Taking place at the Michaelis Galleries from 8-24 August, this exhibition is a speculative inquiry that considers the contributions of living black women artists and the potential their practices and work stand to contribute to studies on abstraction. Curated by Nkule Mabaso.
Turiya Magadlela has also been featured in Phaidon's recent publication Vitamin T: Threads and Textiles in Contemporary Art.
This publication celebrates tapestry, embroidery, stitching, textiles, knitting, and knotting as used by visual artists worldwide. Vitamin T is the latest in the celebrated 'Vitamin' series in which leading curators, critics, and art professionals nominate living artists for inclusion. As boundaries between art and craft have blurred, artists have increasingly embraced these materials and methods, with the resulting works being coveted by collectors and exhibited in museums worldwide. If you would like to purchase this publication click here.
Michael MacGarry is one of 15 artists from 11 different countries included in Africa State of Mind at the Museum of the African Diaspora in San Francisco.His award-winning video piece 'Excuse me while I disappear' will be on show.
The exhibition interrogates ideas of 'Africanness' through highly subjective renderings of life and identity, collectively revealing Africa as a psychological space or a 'state of mind', as much as a physical territory. Curated by Ekow Eshun, the exhibition runs 4th September - 15th November 2019.
Shany van den Berg's portrait 'Leah se Waters' is one of the Top 40 finalists in this year's edition of the prestigious Sanlam Portrait Award. The Top 5 Finalists and Winner will be announced at the Rust-en-Vrede Gallery in Durbanville on 23 August at 19:00. Shany will also be participating in the Ampersand Foundation Fellows group exhibition from 9 September, at the University of JHB Art Gallery. She was a given a fellowship for the month of March 2013 in their art residence in NYC. Jack Ginsberg, a passionate and long-standing supporter of contemporary South African art, established the Ampersand Foundation in 1997, seeing the need for South African artists to be exposed to the international art world in order to be able to achieve their full potential.
Johannesburg-based artist Io Makandal has been invited to participate in rocks, a group exhibition curated by Chloë Reid and Matty Roodt at a new space in Jo'burg - the gallery. The show opens at 44 Stanley Ave at 14:00 on 14 September, and runs until 9 November. Considered a "curatorial essay", the show brings together Nina Barnett, Nolan Oswald Dennis, Jared Ginsberg, Thami Jali, Io Makandal, Nabeeha Mohammed, Daniella Mooney, Sean O'Toole, Matty Roodt, Jonah Sack and Sitaara Stodel.
IT IS WITHIN, a solo exhibition of oil paintings by Jordan Sweke, opens at Everard Read, Johannesburg, on 31st August. Through his work, Sweke strives to re-align notions of nature and self. Of his intricate paintings, he says, "Painting is highly embedded into my everyday life, a constant relationship with concepts, techniques and materials...Scale is one of the tools I use to aid the communication of the sublime. A beauty so large, intricate and inconceivable that it frightens us as it lays our own insignificance before us, but somehow also causes us to feel connected to that fearful beauty, awakens us to an interior vastness and strength. An interesting kind of beauty that reflects both our own insignificance and power." Read the interview here.
Lorienne Lotz is exhibiting in Conversations with Irma at the UCT Irma Stern Museum, from 31 August - 14 September. In this group exhibition, the participating artists have found thoughtful and playful ways of interacting with the house, the collection in the museum and the life of the artist Irma Stern. They managed to shift the gaze and create new and interesting connections, enabling fresh and surprising views of Irma, the artist, as well as of the hallowed institution of the Irma Stern Museum. The viewer will hopefully by turns be engaged, moved and enlightened.
Back to News