BIOGRAPHY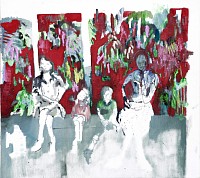 Vossgatter is a process-oriented conceptual painter who works with a range of materials and applications to create charged paintings, installations and sculptural matter.
Her primary focus is the engagement with the pure pigment and its agent, whether it be oil, wax, water, plaster or foreign additives and finding what form this material fusion needs to take based on the social and energetic currents around her.
Despite this constant renewal of painterly structure her sensibility has remained constant: a deep fascination with what it means to be human, and how this constructed humanness exists in relation with our ever-changing natural environment and to each other. Elize's work is a material interrogation into philosophical and psychological mores regarding group consciousness, transformation and accountability.
Presently the artist is based in Germany and is investigating man's interaction with waste-matter and the accountability to our natural environment. She works with the physical elements of temperature, separation, compression, weight and gravity as formal elements in her art making process, 'setting up relationships between the polarities of natural matter and artificial stimuli.'
EDUCATION
1999-2002
B.A Fine Art University of Cape Town
Major Painting & Art Theory with distinction
2003
Psychology 1 UNISA
First class pass- discontinued
2017 limp, SMITH, Cape Town
2015 In the end we're all to blame, Commune1, Cape Town
2013 Once there was, and once there wasn't, AVA, Cape Town
2012 Sterntaler, AVA, Cape Town
2019 Verorten/ Entorten, Projektwohnung, Krudebude, Leipzig
2018 Home for the holidays, Summer Show, Everard Read, CT
2017 ANOTHER ANTIPODES, Freemantle, Australia
2016 Surface and Subtext, Everard Read Gallery, CT
Open Studios, Art Omi, New York
2015 Summer show, Everard Read gallery, Cape Town
Two, SMITH gallery, Cape Town
2014 Golden Haze, Salon 91, Cape Town
Rust en Vrede, Cape Town
2013 Summer show, Casa Labia, Cape Town
One in a Million, Salon 91, Cape Town
Archives and Collection, Salon 91, Cape Town
2012 I'd rather be Swimming, Salon 91, Cape Town
Impressions and Responses, Galerie Miz, Istanbul
Our Fathers, AVA, Cape Town
2010 Amani Festival of Visual Arts, Khayelitsha
Vuleka Art competition and exhibition, Belville
Conceptual Matters & Matters Conceptual, Heidi Erdman Contemporary, Cape Town
2016 FNB Art Fair, SMITH gallery, Johannesburg
Cape Town Art Fair, SMITH gallery, 'The Conservationist's Dream'
2015 1:54 Contemporary Art Fair, London, Qubeka Bead Studio
2012 Cape Town Art Fair, AVA gallery
Joburg Fringe festival, FNB Johannesburg Art Fair
ART RESIDENCIES
2017 Pilotenkueche, Leipzig
2016 Art Omi, Omi, New York
2012 Galeriemiz Istanbul
Spier Art Collection, Cape Town
Greenburger Art Collection, Frances Greenburger, New York