BIOGRAPHY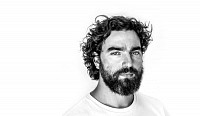 LIONEL SMIT
(b. 1982 Pretoria, South Africa)
Smit started developing and exhibiting straight after art school at Pro Arte Alphen Park. He now lives and works in Cape Town. He is best known for his contemporary portraiture executed through monumental canvasses and sculptures.
Smit is currently exhibiting on 5 continents, and at art fairs in Amsterdam, Germany, India, Miami, Monaco, London and Hong Kong. Over the past 10 years he has established a substantial international following with collectors ranging from the Standard Chartered Bank to Laurence Graff Art Collection at Graff Delaire wine estate.
In 2013 Smit's painting has been exhibited at the London National Portrait Gallery, where it received the Viewer's Choice Award, as well as selected as the 'face' of the BP Portrait Award that year for all campaigns. He was recently honoured with a Ministerial Award from the Department of Culture for Visual Art and a highlight of his career has been the publication of one of his paintings on the cover of Christie's Auction Catalogue. Smit's most recent installation Obscura, was shown at both Everard Read Johannesburg and Cape Town.
SELECTED SOLO EXHIBITIONS
2019
DESTRUCTURE, Everard Read, London, United Kingdom
2018
OBSCURA, Museum of Contemporary Art, Miami, USA
2017
STATE, Everard Read Gallery, Johannesburg, South Africa
EMERGE, M Contemporary, Sydney, Australia
FACES, Everard Read, London, UK
PREMISE, CIRCA, Cape Town, South Africa
2016
New Work, Rook & Raven, Armory Art Week, New York City, USA
Didrichsen Art Museum, Helsinki, Finland
M Contemporary, Sydney, Australia
2015
FNB Jo-burg Art Fair, Everard Read Gallery Booth, Johannesburg, South Africa
Art Miami Fair Featured Artist, Cynthia Reeves Gallery
Close/ Perspective, Everard Read Johannnesburg, South Africa
Origins, Rook & Raven, London, UK
Obscura, Everard Read Cape Town, South Africa
2014
Morphous,, CIRCA, Johannesburg, South Africa
Cumulus,, Rook & Raven, London, UK
2013
Art Miami Fair, featured artist, Cynthia Reeves, Miami, USA
IS Sculpture, IsArt, Tokara, Stellenbosch, South Africa
Strarta Art Fair, Saatchi Gallery, Rook & Raven, London, UK
Fragmented, Rook & Raven, London, UK
100 Accumulation, Everard Read, Johannesburg, South Africa
Wonder Works Exhibition, The Cat Street Gallery, Hong Kong
2012
Compendium, , 34FineArt, Cape Town, South Africa
Strata, Rook and Raven, London, UK
2011
Surface, Artspace, Johannesburg, South Africa
2009
Relate, Grande Provence, Franschhoek, South Africa
SELECTED GROUP EXHIBITIONS
2019
Winter, Everard Read, Cape Town, South Africa
Art Central Fair, .M Contemporary, Hong Kong
2018
Winter, Everard Read, Cape Town, South Africa
Sydney Contemporary, with M Contemporary, Sydney, Australia
2017
Exposed, Helen Day Art Center, Vermont, USA
2016
Opening Gallery Exhibition, CIRCA Gallery Group exhibition, London, UK
Cape Town Art Fair, Everard Read Gallery Booth, Cape Town, South Africa
2015
Bronze, Steel & Stone, Everard Read, Johannesburg, South Africa
FNB Jo-burg Art Fair, Everard Read Gallery Booth, Johannesburg, South Africa
2014
Summer Season, Everard Read Gallery, Cape Town, South Africa
2013
BP Portrait Award Exhibition, Viewer's Choice Award , National Portrait Gallery, London, UK
Metal Work Public sculpture, Stellenbosch, South Africa
2012
Accumulation of Disorder, installation, University of Stellenbosch Gallery, Stellenbosch, South Africa
Winter Exhibition, Everard Read, Johannesburg, South Africa
Robert Bowman Gallery, India Art Fair, India
Joburg Art Fair, Everard Read Gallery Booth, Johannesburg, South Africa
2011
34FineArt, ArtMonaco '11, Monaco
MOMAC, Group Exhibition, Roberta Moore Fine Art, England
2010
Out of the Office, Group Exhibition, Kunstmuseum Bochum, Germany
Cynthia Reeves Projects, Art Miami, USA
We are not Witches, Saatchi Gallery, London, UK
Submerge, solo exhibition, 34FineArt, Cape Town, South Africa
2009
F.A.C.E.T., Charity Auction, Christie's, London, UK
AWARDS
2013
Visitor's Choice Award, PB Portrait Award, National Portrait Gallery, London, UK
Ministerial Award from Department of Culture for Visual Art, Western Cape Government, South Africa
2009
Merit Award, Vuleka, Sanlam Art Competition, Cape Town, South Africa
2008
Achievement Award, Pro Arte School of Arts, Pretoria, South Africa
2000
First prize in the MTN Art Colours Awards of Gauteng, South Africa
1999/2000
Best painting student Pro Arte School of Arts, Pretoria, South Africa
CATALOGUES
Cumulus LIONEL SMIT, Rook & Raven, London 2014
Formulation LIONEL SMIT, Tokara, Stellenbosch 2013
Accumulation LIONEL SMIT, Everard Read, Johannesburg 2013
Strata LIONEL SMIT, Rook & Raven, London, 2012
Surface LIONEL SMIT, Artspace, Johannesburg 2011
We are not Witches, Saatchi Gallery, London 2011
Submerge LIONEL SMIT, 34FineArt, October 2011
Christie's, F.A.C.E.T (catalogue cover), October 2009
Residue, Grande Provence Gallery, October 2009
Group therapy, Sandton Civic Gallery, 2005
Pretoria, Everard Read Gallery, November 2004
SELECTED CORPORATE COLLECTIONS
Delaire Graff Wine Estate, South Africa
Ellerman Contemporary, South Africa
European Investment Bank, South Africa
Grainvest Futures, South Africa
Johannesburg City Council, South Africa
Johann Jacobs Museum, South Africa
Laurence Graff Collection, South Africa
Parkdev, South Africa
Rand Merchant Bank, South Africa
Saronsberg Wine Estate, South Africa
South African Embassy, Nigeria
Standard Chartered Bank, South Africa