BIOGRAPHY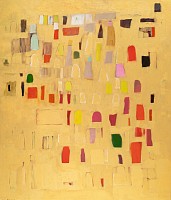 PENELOPE STUTTERHEIME
(b. 1958 Cape Town, South Africa)


She is largely self-taught and has been painting for twenty-eight years. She has participated in various group exhibitions and sold through private galleries.


Penelope's latest paintings have evolved from her earlier landscapes, though they make use of the same impasto application of oil paint. Her subject is presented in haptic images that are symbolic and layered. The work is a metaphor of the transformative processes that unfold in the body and psyche. The title of one of her exhibitions, 'A Way Through', refers to the experiential quality of her works; the paintings aim to subject both the artist & viewer to the possibility of moving through different states of consciousness.

Colour is a medium of its own in Stutterheime's works. Contrasting colours afford glimpses into further aspects of consciousness, the borders of the fields presenting a conduit for the flow between inner & outer awareness.


2022
Sanctuary, Everard Read, Cape Town, South Africa
Investec Cape Town Art Fair, Everard Read's booth, CTICC, Cape Town, South Africa
2021
Oasis, Everard Read galleries, South Africa
Spring Show,
Everard Read, Johannesburg, South Africa
Transitory Terrain,
Everard Read, London, UK
2020
Summer, Everard Read, Cape Town, South Africa
Still
, online exhibition, Everard Read, UK and South Africa
Staring Straight to the Future,
online exhibition, Everard Read, UK and South Africa
2019
Mapping the Interior, Everard Read, London, UK
Mapping, Solo show, Everard Read, Cape Town, South Africa
Winter, Everard Read, Cape Town, South Africa
Summer, Everard Read, Cape Town, South Africa
2018
Summer, Everard Read, Cape Town, South Africa
2017
Winter Collection, Everard Read, Cape Town, South Africa
Cubicle Series, Everard Read, Cape Town, South Africa
2016
Opening Gallery Exhibition, CIRCA London, London, UK
Winter Collection, Group Show, Everard Read Gallery, Cape Town, South Africa

2015
The Yearning, Everard Read, Cape Town, South Africa

2015
Summer Exhibition, Everard Read, Cape Town, South Africa
Winter Exhibition, Everard Read, Cape Town, South Africa

2013
A Sense of Place, Everard Read, Cape Town, South Africa

2012
Winter Show, Everard Read, Cape Town, South Africa
Small Works, Everard Read, Cape Town, South Africa
Love Poem, solo show, Myerson Fine Art, London, UK

2011
Exhale, solo show, Myerson Fine Art, London, UK
15th Anniversary, group show, Everard Read, Cape Town, South Africa

2010
New Works, solo show, Everard Read, Cape Town, South Africa
Rose Korber Art Salon, group show

2009
Rising Up, Myerson Fine Art, London, UK

2008
A Way Through, Everard Read, Cape Town, South Africa

2007
Solo exhibition with iArt, Cape Town, South Africa

2005
Art London with Myerson Fine Art
Solo exhibition with Myerson Fine Art

2000 - 2007
Rose Korber Salon

2005 & 2006
Group exhibitions with Rose Korber at Grande Provence

2001