BIOGRAPHY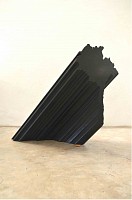 SEAN SLEMON
(b 1978 Cape Town, lives and works in New York)

Seán Slemon is a South African artist from Cape Town, living and working in Brooklyn, New York since 2005. He is recognized for addressing socio-political issues pertaining to the commoditization and distribution of natural resources. His examination of how land, light and street trees are co-opted to create advantage or discriminate underscores the active and passive decisions we make as a society. The result is an intense interrogation of public vs. private property, its ownership, and the impact this distribution can have on people's lives.

Formally trained in sculpture, Slemon now incorporates installation, drawing and photography, seeking media that reinforce the concept. Embedding materials such as chalk, soil and concrete help to build physical and ideological layers and create theoretical conflicts. He primarily builds and fabricates sculptures himself using gypsum, fiberglass and other materials; however, recent projects have employed other fabrication techniques, using 3D computer modeling and working with industrial fabricators to produce works on a larger and more complex scale.

Slemon obtained an MFA from Pratt Institute in New York and a BFA from Michaelis School of Fine Arts at the University of Cape Town. He has been featured in numerous publications, and completed residencies at the Skowhegan School of Painting and Sculpture in Maine, and Chashama in New York. He has been awarded grants from the Foundation for Contemporary Arts in New York and the National Arts Council of South Africa; and won the 2005 Sasol New Signatures Award for emerging artists in South Africa.

Slemon's work has been shown in the U.S., Europe and South Africa. Major site specific installations include Uplift: The Mountain (2008) at the Palazzo delle Papesse in Siena, and The Light at 7:00 am (2009) for No Longer Empty's Reflecting Transformation show in Chelsea, NY. Most recently, Goods for Me (2011) was featured at Art Miami in the THINK BIG! show, curated by LaRete Art Projects.

In 2014 Slemon completed a commission for First National Bank; a series of five public sculptures for their Johannesburg Bank City precinct. He recently staged his third solo exhibition at MagnanMetz Gallery in New York, which remains open to the public until November 7th, 2015.


EDUCATION
2007
Skowhegan School of Painting and Sculpture. New York, USA

2007
Masters in Fine Arts at Pratt Institute, Brooklyn, New York, USA

2001
Bachelor of Arts in Fine Art with Distinction, University of Cape Town, Michealis School of Fine Art, Cape Town, South Africa.


SELECTED SOLO EXHIBITIONS

2015
Origin Unknown (Africa)
, MagnanMetz Gallery, New York, USA

2012
New Work: Sean Slemon, Nirox Projects, Johannesburg, South Africa

2011
The Sun Stands Still, MagnanMetz Gallery, New York, USA

2010
In the Red/In the Black, Brodie/Stevenson Gallery, Johannesburg, South Africa

2008
Block 700, Magnan Projects, New York City, USA

2007
Public Property, Central Utah Arts Center, Utah, USA

2006
Solid Light, David Krut Arts Resource, Johannesburg, South Africa

2005
Katrina and the Five Boroughs, David Krut Projects, New York, USA
Joburg One to Eleven, The Premises Gallery, Johannesburg, South Africa
Uplift: The Premises Mountain, The Premises Gallery, Johannesburg, South Africa
The Mountain and The City, Outlet Gallery, Pretoria, South Africa


SELECTED GROUP EXHIBITIONS
2016
Pastoral Abstraction, Everard Read Cape Town, South Africa

2015
Bronze , Steel & Stone, Everard Read Cape Town and the Belmond Mount Nelson, South Africa
Winter Sculpture Fair, Nirox Sculpture park, South Africa
EMPIRE, Everard Read Cape Town, South Africa

2014
Play, curated by Jayne Crayshaw-Haley, Nirox Sculpture park, South Africa
Art Week Joburg, Maboneng Precinct, Johannesburg, South Africa
Destination Unknown, MagnanMetz Gallery, New York, USA

2013
Art Miami, MagnanMetz Gallery, Miami, Florida, USA
Think Big, Art Miami, Curated by LaRete Art Projects: Julia Draganović, Elena Forin and Claudia Löffelholz for Art Miami, Florida
In the Flesh, Target Gallery, Torpedo factory, curated by Jason John,
The Benediction of Shade, David Krut Projects, Cape Town, South Africa, curated by Jacqueline Nurse
"Et al" Nirox Projects, Johannesburg, South Africa, curated by Neil Nieuwoudt and Brendan Copestake

2012
"How Much Do I Owe You" No Longer Empty, Queens, New York, curated by Manon Slome
Joburg: Don't/Panic, C.H.R., Johannesburg, South Africa, curated by Gabi Ngcobo
Landscape Re-Orientation, David Krut Projects, Cape Town, South Africa, curated by Jacqueline Nurse

2011
Implemented Environments, Brundyn & Gonsalves, Cape Town, South Africa
Don't/Panic, Durban Art Gallery, Durban, South Africa, curated by Gabi Ngcobo

2010
Announcing MagnanMetz, MagnanMetz Gallery, curated by Dara & Alberto Metz

2009
Reflecting Transformation, No Longer Empty, curated by Manon Slome
Map South Africa: African Perspectives and the Heart of the African City, Pretoria, South Africa
Forever Summer, Denise Bibro Fine Art curated by Scott Malbaurn, June

2008
Scratching the Surface Vol. 1, Association of Visual Arts, Cape Town, curated by Gabi Ngcobo and Mwenya Kabwe
ZA Giovane arte dal Sudafrica, Palazzo delle Papesse, Siena, Italy, Feb, curated by Lorenzo Fusi, www.papesse.org

2007
Works on paper-an exhibition of prints created in the David Krut Print workshop, UNISA Art Gallery, Johannesburg, South Africa

2006
Contour-the Definitive line, curated by Jon Coffelt, Schedler Minchin Fine Art, Birmingham, Alabama, USA

2005
Sasol New Signatures Exhibition: Snowflake, Aardklop Festival, Potchefstroom, South Africa
Sasol New Signatures 2005, Pretoria Art Museum, Pretoria, First Prize joint winner, Judges Award winner, Merit Award joint winner

2004
Absolut Secret 9, Association of Visual Arts, Cape Town, South Africa

2003
Picnic, Brendan Bell-Roberts Gallery, Cape Town, South Africa

2002
Spier Outdoor Sculpture Biennial, Stellenbosch, South Africa

2000
Softserve ll, South African National Gallery, Cape Town, South Africa


SELECTED COLLECTIONS AND COMMISSIONS
2014
First National Bank, South Africa: Outdoor commission for five public sculptures

2013
Spier Collection, South Africa

2012
Pizzutti Collection, USA

2007
Pratt Institute permanent outdoor sculpture exhibition, USA

2005
Sasol South Africa Collection, South Africa

2005
Harrie Siertsema Collection, South Africa
AWARDS, GRANTS, AND LECTURES

2014
Studio Museum Harlem, Ubuntu Artist Exchange, moderated by Tumelo Mosaka

2011
USA Projects matching funding grant, USA Artists
Artists Lecture, Artists Now Lecture series, University of Milwaukee, Wisconsin

2009
Foundation for Contemporary Arts, Emergency Artists Grant

2008
Artists Lecture, Brigham Young University, Provo, Utah

2007
National Arts Council of South Africa-Study Bursary

2005
Sasol New Signatures Award
Sasol New Signatures Judges Merit Award



2015
Nirox Foundation Artist's Residency, Gauteng, Johannesburg, South Africa

2012
Nirox Foundation Artist's Residency, Gauteng, Johannesburg, South Africa

2007
Chashama Studio Residency program: Brooklyn Army Terminal, New York


PUBLICATIONS AND REVIEWS

2012
The Sun Stands Still: review by Jenah Barry, Art South Africa, Issue 10 Volume 3, March 2012

2011
Don't/ Panic Exhibition catalogue by Gabi Ngcobo

2008
.za: Young Art from South Africa Pick of the month
PALAZZO DELLE PAPESSE Siena, February 2–May 4 Emily Verla Bovino, Artforum Magazine.

2007
An artist's residency: The need for work/space in South Africa, de Arte Vol.76, 2007, UNISA Press
Sean Slemon,Pratt Institute, New York, by Jena Barry, ArtSouthAfrica Magazine, Vol 6 Issue 1, P102

2006
The Politics of Power and Space: Business Day, Sept 1st 2006, Alex Dodd
Sean Slemon Solidifies Light and Space, by Jacki Mc Innes
SA Art Times, Issue 8, August 2006

2005
Sean Slemon The Premises, Johannesburg, by Robyn Sassen, ArtSouthAfrica, Magazine, V4.2 P80, Dec 2005
http://www.artsouthafrica.com/?article=229
Artthrob_reviews, www.artthrob.co.za, Robyn Sassen, http://www.artthrob.co.za/05may/reviews/outlet.html

2002
Spier Outdoor Sculpture Biennial, catalogue, Emma Bedford.

2001
Artthro Review, www.artthrob.co.za (online art magazine), www.artthrob.co.za/01dec/reviews/michaelis.html, Tracy Murrinick