PRESS RELEASE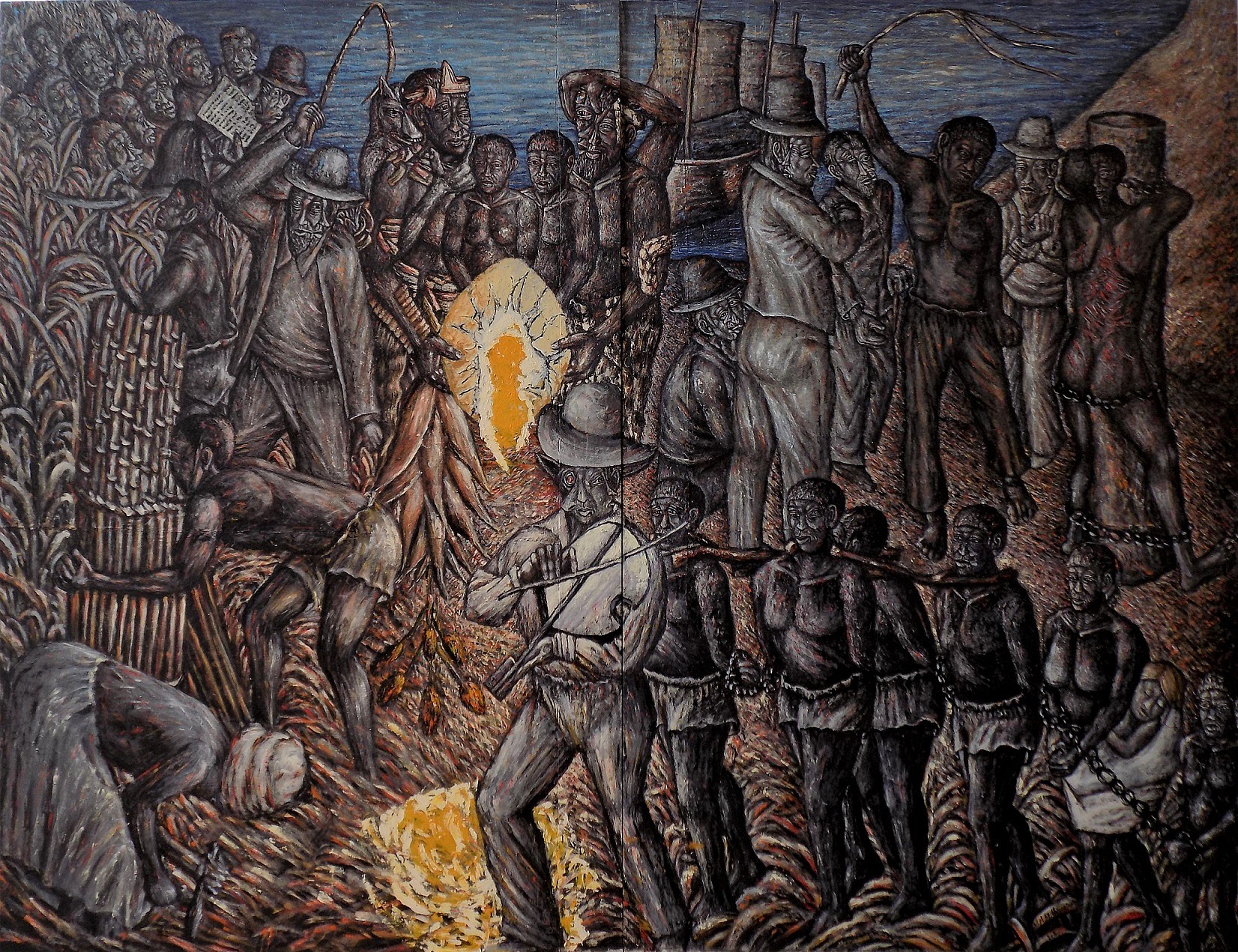 MMAKGABO HELEN SEBIDI: Tears of Africa
Jul 16 – Jul 28, 2018
"I never want to be pushed to finish things quick, quick, quick. I want to work without interruption. Alone. Quietly."
Created thirty years apart, Mmakgabo Helen Sebidi's exceptional 'Tears of Africa' works are being shown together for the first time in Africa at CIRCA Cape Town, from 16 – 28 July 2018. Given the paucity of work emanating from her studio, this is a rare opportunity to view her work in the flesh.
The story of Sebidi's artistic journey is well known: the young girl from rural Mpumalanga taught crafts by her grandmother; the adolescent who moved to Johannesburg, spending her days as a domestic worker while refining her creative skills in the early hours of the morning; student of John Koenakeefe Mohl and Bill Ainslie; the first black woman in South Africa to have a solo exhibition; a return to Marapyane to look after her ailing grandmother; recipient of a Fulbright Scholarship (which allowed her to travel the USA) and the Standard Bank Young Artist Award; a pioneer acknowledged with the President's Order 'for making an excellent contribution in the field of visual and traditional arts and crafts'.
To view these two artworks simultaneously is to get a very strong sense of this journey and how it has shaped Sebidi's work, while making clear that she has remained steadfast in her commitment to acknowledging the hard truths of contemporary life in Africa, both spiritual and secular. Sebidi says of her work: "My early works were traditional wall paintings using dung to get the right shine. Now I paint differently. I don't use my brain but am only controlled by a spirit. When the picture is finished it will speak. It will come alive and there will be movement."
The first 'Tears of Africa' was produced between 1987 and 1988, in a heavily politicised environment. A charcoal and mixed media collage, it is a cramped, chaotic diptych portraying contorted and distorted figures – people seduced by life in the cities. The segregation of Apartheid resulting in turmoil, broken family structures and shattered identities.
The second equally congested diptych was created in 2016 during a residency in Bahia, Brazil. It was first exhibited at the 32nd Brazil Biennale in São Paulo, and incorporates Sebidi's immediately recognisable stippled application of paint and use of fragmented figures to explore duality – good and evil, past and present, urban and rural. While the eye is drawn to the glowing egg cracking open in the centre of the panels, the manacled train of people and the figure being lashed bloody on the edge of its circle of light hold the attention considerably longer.
The dialogue between the two pieces emphasises the disruptive and compelling nature of Sebidi's work, and the painfully slow movement of history. Novelist Craig Higginson explains, though, that "although the lessons at the heart of this work are didactic in nature, there is a humanity and playfulness and final optimism that are very much the impression one gets from the artist herself. Although she continues to make work out of her horror at the harsh realities around and behind her, her gaze toward the future is unflinching and level."