BIOGRAPHY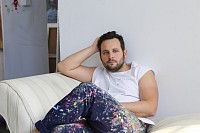 PAOLO BINI
(b. 1984, Salerno, Italy)
With a brightness that is consistent with the experiences of travel and discovery, Paolo Bini's paintings register the physical perception of three-dimensional space. Derived from an emotional state of mind, the artist charts the unveiling of our natural surroundings. These are investigations into an "existential" brightness that, as Jung states, adds more "stuff" in order to feed "a significant expansion of the horizon and a deeper self-knowledge".
An ongoing dialogue with the concepts of 'landscape', Bini's mixed media paintings convey a sense of infinity. Surrendering the traditional assumptions of landscape, he builds visual bridges and explores the mysteries of what as he explains are 'the feeling of an inner strength that goes beyond the threshold of representing'. By translating and by 'giving up the form of 'landscape' Bini concludes that energies, the immediate, and a number of internalized paths and choices he makes are all reflective as the traces of each person's being. Each artwork leads to a narrative in which everything has yet to happen and where our own perceptions of the relentless pace of contemporary life is questioned and explored.
Paolo Bini graduated from the Academy of Fine Arts in Naples. In 2010, he represented the young Italian paintings as part of the XIII Italian Culture week, La Habana (Cuba), and was awarded a scholarship from the Grad Kultural Center in Belgrade, Serbia. 2011 saw his work presented at the 54th Venice Biennale, curated by Vittorio Sgarbi, and well as a residency with the Centro Di Sarro Project Italy-South Africa in Cape Town. In 2014, Paolo undertook a residency at Scuola del Graffito, Montemurro, Potenza, Italy.
SELECTED SOLO EXHIBITIONS
2019
Trovo Luce / I find Light, ISCP Residency New York, USA
2018
Mediterraneo rosso e oro / Mediterranean red & gold, curated by Valentino Catricalà, Riso Museum Palermo, Italy
Colourscape, CIRCA Gallery, Johannesburg, South Africa
La pittura, giorno dopo giorno / Painting, day after day, curated by Luca Beatrice, Galleria Alberto Peola, Turin, Italy
2016
Al Di Là Del Quadro / Beyond the Painting, solo exhibition, Everard Read, Cape Town, South Africa
2015
Behind the visible, curated by Ivan Quaroni, Galleria ABC Arte, Milano, Italy
Astrazione modulare, curated by Valerio Dehò, Fornace Falcone, Eboli (SA)
2014
Untitled, Palazzo_Mezzacapo, Amalfi Coast, Italy
Panoramiche emozionali, Cerruti Art Gallery, Genova, Italy
Paintings on tape, Casa Turese, Vitulano, Benevento, Italy
Contaminazioni, double show with D. Baechler, Nicola Pedana, curated by Enzo Battarra, Caserta, Italy
Altri viaggi, Casa Ariosto, Ferrara curated by Maria Letizia Paiato, Ferrara, Italy
2013
Brink of the Ocean, Provenance House, curated by Alessandra Atti Di Sarro and Emma Vandermerwe, Cape Town, South Africa
Colour absence in suspense, University of Siena curated by Martino Cappai, Italy
Kalodiki, Cerruti Art Gallery, Genoa curated by Claudia Gennari, Genoa, Italy
2012
Un viaggio nell'immaginario pittorico, Centro Grafico, Foggia curated by Claudia Gennari, Foggia, Italy
2011
Un proyecto especìfìco, Centro Luigi Di Sarro, Rome curated by Alessandra Atti Di Sarro (cat.) Rome, Italy
2010
Solstizio d'estate, Cerruti Art Gallery Genova curated by Massimo Bignardi (cat.)
SELECTED GROUP EXHIBITIONS
2018
Incontri, Ex Chiesa dell' Annunziata, Teano, Caserta, Italy
Per_formare una collezione: Per un archivio dell'arte in Campania, curated by Andrea Viliani and
Silvia Salvati, Fondation Donna Regina – Museo MADRE, Napoli, Italy
2017
Southern Abstraction, Everard Read, London, UK
Spectrum, CIRCA, Johannesburg, South Africa
Reflex, curated by Centro Di Sarro, Italian Cultural Institute, Warsaw, Poland
Focus new permanent collection, Fondazione Donna Regina, Museo MADRE, Napoli, Italy
2016
HARDLINE, Everard Read, Cape Town, South Africa
Pattern Painting, curated by Luca Beatrice, Reggia di Caserta, Casert, Italy
Line and shadow, CIRCA Gallery, Johannesburg, South Africa
Premio Cairo, XVII Edizione, curated by Michele Bonuomo, Palazzo Reale, Milan, Italy
ArtVerona | Project Art Fair, with a solo project in King Kong area, Verona, Italy
FNB Joburg Art Fair, Johannesburg, South Africa
Abstractions?, Galerie Placido, Paris, France
Arte Fiera Bologna, with galleria Nicola Pedana, Bologna, Italy
Investec Cape Town Art Fair, with Everard Read, Cape Town, South Africa
2015
Empire, Everard Read, Cape Town, South Africa
2014
Show_Yourself@Madre, Museo MADRE, Napoli, Italy
Summer Season, Everard Read, Cape Town, South Africa
Premio Celeste, Assab-one, Milan curated by Lorenzo Benedetti (cat.), Milan, Italy
Approdi e naufragi. La costruzione dello sguardo per artisti tra XX e XXI secolo, Palazzo Mezzacapo, Maiori (SA) curated by Marco Alfano (cat.) Maiori, Italy
Premio Griffin, Fabbrica del Vapore, Milan curated by di Ivan Quaroni (cat.), Milan, Italy
Premio Zingarelli, Rocca delle Macìe, Castellina in Chianti (SI) curated by Simona Gavioli (cat.), Chianti, Italy
XXXVIII Festa del Fuoco, Fornace Falcone, Montecorvino Rovella, Italy
Miart Fair 2014, with Poleschi arte, fieramilanocity, Milan, Italy
ARTour-o, Accademia del Disegno, Firenze curated by Tiziana Leopizzi (cat.), Firenze, Italy
SETUP Art Fair, with Yoruba, Autostazione, curated by Simona Gavioli (cat.), Bologna, Italy
2013
Opere dalla Collezione Permanente, Museo FRAC, Baronissi (SA) curated by
Pasquale Ruocco, Baronissi, Italy
Alchimia di parole, Castello di Amendolara (CS) curated by Ombretta Gazzola e Teo De Palma, Amendolara, Italy
Abstract artists, CerrutiArte, Santa Margherita Ligure, Italy
Vedere parole. Libri d'artista, Ex Convento di S. Bernardino, Rossano Calabro, Italy
Disordine Lineare, La Vedetta, Giovinazzo, Italy
Verticalità, Museo-CAMeC, La Spezia curated by Walter Vallini (cat.) La Spezia, Italy
2012
Alchimie du Verbe, Biblioteca "A. Minuziano", San Severo (Fg) curated by Teo
De Palma, San Severo (Fg), Italy
Verticalità, Sala Dogana, Genova curated by Walter Vallini (cat.), Genoa, Italy
Artisti e galleristi per Don Gallo, Palazzo della Regione Liguria, Genoa, Italy
Premio Murano, Scuola Grande della Misericordia, Venice, Italy
Green Dreams, Tempio di Pomona, Salerno curated by Massimo Bignardi (cat.), Salerno Italy
Artisti contemporanei italiani, Sala Pietro Palazzo, Comiso, Italy
InterRail. Viaggio nell'immagine, Centro d'arte contemporanea Art's Events, Torrecuso, Italy
Arte Accessibile, IV Edizione, Eventiquattro Gruppo Sole 24 ore, Milan curated by Ivan Quaroni e Chiara Canali (cat.) Milan, Italy
2011
54th Biennale di Venezia, Ex Tabacchificio Centola, Padiglione Italia, Regione Campania, Pontecagnano Faiano (Sa) curated by Vittorio Sgarbi (cat.), Venice, Italy
XIV Bienal Guadalupana, A recoger el tiradero, University Ibero Americana,
Guadalupa, curated by di Jorge Ismael Rodriguez Guadalupa, Mexico
Collezione Permanente del MUSEO FRAC, Aula consiliare, Baronissi (Sa) curated by Massimo Bignardi (cat.) Baronissi, Italy
Link, Cerruti Art Gallery, Genoa, Italy
Acquisizioni, Comando Provinciale Guardia di Finanza, Pisa, Italy
Nuove Rotte della Pittura, Museo degli Arsenali, Amalfi (Sa) curated by Pasquale Ruocco, Amalfi, Italy
Chain Letter, Samson Art Gallery, Boston, Massachusetts curated by Camilo Alvarez, USA
Spazi dell'anima, Chiesa dell'Annunziata Marcianise (Ce) curated by Massimo Bignardi, Marcianise, Italy
Premio Internazionale Bice Bugatti - Giovanni Segantini, LII Edizione, Sala Gio.i.a., Nova Milanese (Mb) (cat.) Italy
Arte Cremona, Cremona Art Fair, Italy
2010
Naples@Beograd, GRAD, Belgrade, Serbia curated by Componibile62, Belgrade Serbia
Collettiva artisti della galleria, Galleria Il Catalogo, Salerno, Italy
Premio Mario Razzano, IV Edizione, ARCOS, Benevento, Italy
Link - arte e design entrano in contatto, Cerruti Art Gallery, Genoa, Italy
Immagina Arte in Fiera, XII Edizione, Reggio Emilia, Italy
XIII Settimana della cultura italiana, Convento S. Francesco, L'Avana, Cuba curated by Alessandra Atti Di Sarro (cat.)